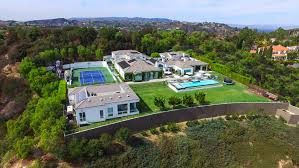 Despite a hot LA economy and near record low interest rates, the luxury real estate market in greater Los Angeles ($5M+) has slowed down since last year with overall sales volume down and the days on market for homes actively on the market continuing to climb. As of August, there were 339 sales of $5 million or more in the L.A. area this year compared with 402 sales at the same time last year, according to the Multiple Listing Service.
The trend continues at higher price points but the gap is not nearly as big. There have been 12 sales of $30 million or more this year compared with 13 last year.
Although many speculate about an increase of foreign buyers in the luxury real estate scene, the data show otherwise. Of the 24 home sales of $20 million or more this year, 15 of the buyers were American. The only other countries with more than one buyer were Saudi Arabia and China, which each had two.
Another issue factoring into the decline in luxury sales is the inability to write off property taxes above $10,000 under the recent tax law changes. It has had an adverse impact on the "trade-up" market in which would-be buyers of some $5M+ homes do not want to take on the tax hit, especially if they have been in their current home for a long period of time and paying taxes on a lower property value. Remodeling their current home to fit their needs becomes a more palatable option.