The Palisades market enjoyed a robust 1Q of 2017 compared to last year's 1Q with overall sales increasing, and the most off-market activity of any area on the Westside.
The number of sales this year was 72 with a whopping 15 happening off-market while the 1Q of 2016 saw 58 sales with 7 happening off-market. Per MLS data, 10 homes sold for over the asking price while 11 sold over last year. You have to figure a fair amount of the off-market sales sold for a premium since the buyer had the privilege of purchasing the property without competition.
When reviewing the MLS sales individually, it was evident that quite a few sellers had an inflated view of their property value leading to some properties having to drastically reduce their price and selling for under market value despite this being a strong seller's market.
Overall, it was a good quarter for the Palisades and one of the most sought after areas on the Westside will continue to command premium pricing throughout 2017.
Average sale amount/Average price per sq. ft.
2017: $4.213M–$1,312
2016: $3.466M–$1,429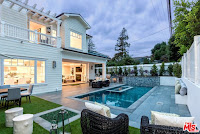 Favorite sale of the quarter- 1102 Galloway Street- This newly constructed Cape Cod 6+8, 7,400 sq. ft. home on a 7,500 lot is a stunning union of modern craftsmanship and traditional architecture. They built the home with the finest tastes in mind including a huge basement with a lavish theatre and enormous wine cellar, elevator, roof-top deck and more all while being within walking distance to the new Caruso development. The property hit the market in November of last year for $5.985M and sold for $6M with an early January close.
Sneaky good buy- 333 N. Mount Holyoke- This spectacular 16K lot with amazing bluff views provided the buyer a rare opportunity to build an estate or build two homes since the lot has two parcel numbers. Unfortunately for the seller, they originally priced the home for $6.2M, and after being on and off the market for over a year while constantly reducing the price, the property finally sold for what we believe was a below market price of $4.3M in late January.