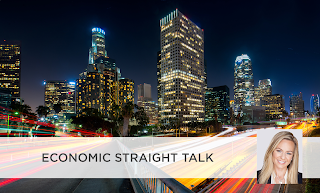 The California economy started 2017 on a high note, yet how has the state—and Los Angeles in particular—been performing in more recent months?
Here to report on the subject is Partners Trust's Chief Economist and Vice President of Business Intelligence, Selma Hepp. In Hepp's latest Economic Straight Talk analysis, she points out that over the last 12 months, California has added about 265,000 jobs, which is a 1.8 percent increase and still outpaces the national growth rate of 1.4 percent.
Nevertheless, as this year's numbers have indicated so far, overall job growth and creation has slowed from previous years. Regarding California's unemployment rate, Hepp reports that the state has incurred a slight increase to 5.1 percent in August, which is largely due to a sizable addition to the labor force of 31,600 new workers. This is the largest monthly increase in the labor force since the spring of 2010. Sectors that lost jobs include leisure and hospitality, while sectors that gained jobs include services—which encompasses personal-care services and equipment and machinery care—manufacturing, retail, trade, and healthcare.
When focusing on Los Angeles County specifically, Hepp notes that L.A. has added 8,300 jobs with the largest increase occurring in the government sector. Professional and business services saw notable gains, as well as job additions in the trade, transportation, and utilities. The information sector also posted a strong increase. Similar to other metro areas, Los Angeles' leisure and hospitality industry posted the largest month-over-decline, with 67 percent of the decrease in accommodations and food services.
Source- Partners Trust Blog