According to the MLS, the number of single family residential "SFR" sales in May was 15, with 9 over the asking price. In May of 2014, 17 SFR's sold with 13 selling for over asking. The sales volume is down slightly with sellers being a little more aggressive with the list price compared to May 2014, in which over 75% of the homes sold for over the asking price.
The median sales price is up 25% from $810,000 to $1.010M. The median sales price is up 79% over a three-year period when comparing the 1st quarter median sales price of 2012 vs. 2015. Despite having so many homes sell for over asking in May of last year, the average days on market dropped to 21 this year compared to 36 last year. This is the lowest monthly average days on market in the last 12 months. Inventory is picking up this month so we expect the average days on market to increase.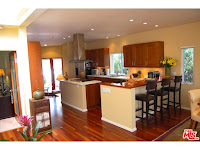 Crazy sale of the month- 3330 Cattaragus– This 3+2, 1,590 sq. ft. Spanish home on a 4,797 sq. ft. lot was listed at only $999,000 to create a ton of initial interest. The listing agent also asked for highest and best right off the bat with no counters. They received quite a few offers with the winning bid coming in all-cash at $1.3M, with no appraisal contingency. The house has an open floor plan with a chef's kitchen, hardwood floors and a garage converted into a living space.