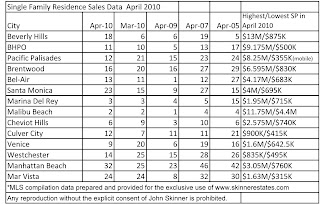 April continued the show signs of a strengthening market in the Single Family Home market but we are still pretty far off the numbers in 2007 and 2005. Total April sales for the cities included in this graph was 195 compared to last year's dreadful 123.
However, it still lags well behind the sales activity of 276 in April 07 and 277 in April 05 even though realtors feel even busier than they were during those times.
Part of the reason we are so busy is deals are typically more complex and good/ethical agents are getting more business since the trust factor is extremely important in this type of market.
With increased inventory and an improving economy these numbers should continue to improve despite federal tax credits expiring. The Westside/Manhattan Beach price point is high enough that the credit should not have much of an impact on the numbers.
The gap between list price and sales price is beginning to shrink quite a bit compared to last year. Sales in April averaged about 97% of the list price on the Westside for homes under 2.5 million. The gap was around 93% last year at this time. The luxury home market above 5 million is still struggling with realistic listing prices and the gap between list and sales price is under 90%.
Highlights regarding the sales:
*Santa Monica had 23 sales this month compared to 15 last month. Of the 23 sales, 4 of them went for well over asking and the majority of them sold at or just under the listing price. 512 Georgina, a 4,700 sq. ft. home on a 12K lot that needed lots of work sold for $4 million, over 25% of the list price of $3.1 million. The property commanded 8 offers with five of them being 100% cash.
*Brentwood was close to asking or over asking on most single family sales.
*Big Boy Sales: 31122 Broad Beach in Malibu Beach sold for $11.75M. Asking price was $13.8M. 2591 Summitridge Drive in Bel-Air sold for $9.175M with an asking price of $10.9M. 1025 Ridgedale in Beverly Hills sold for $13M with an asking price of $15M.
*Two properties in Bel-Air went for over asking and were listed for less than a month.
*Culver City has 7 properties that sold for over asking…Westchester checks in with 5 and Manhattan Beach with 4…
If you would like information about a specific property, please send our office an e-mail.