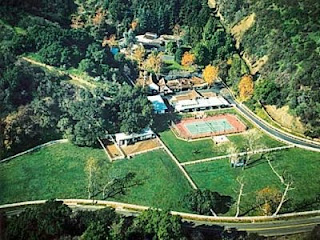 The 112-acre Robert Taylor Ranch owned by concert promoter Kenneth J. Roberts, the man who built KROQ-FM (106.7) into a radio rock giant, is on the market for $56 million.
The 11,000-square-foot Brentwood home sits in the foothills of the Santa Monica Mountains on Mandeville Canyon.
Roberts paid $900,000 for the property in 1969 when he bought it from Taylor. Obviously, it has been updated and remodeled several times through the decades.
At one point, the 17-bedroom, 17-bath home was listed at $65 million. In 2002 and 2005, it ranked among Forbes' Top Ten Most Expensive Properties list. It has four detached guest cottages, an office complex, a swimmer's pool, horse stables and a championship tennis court. There is a wine cellar, and screening and game rooms.
(*Sources: MLS, LA Business Journal)