According to an article from CurbedLA that cites a report from Zumper, Los Angeles residents on average spend nearly 50% of their income on rents! Rents are higher in San Francisco and New York but the household income in those cities is higher. San Francisco checks in around 45% followed by Miami with 43%. New York is 41%.
The median rent for one-bedrooms in Los Angeles in August was $1,830, a 7.6 percent increase from the last three month period. Two-bedroom apartments were up 5.6% from the last quarter, to $2,640. Downtown Santa Monica is the most expensive place to rent in LA with a median one-bedroom renting for $3,220 in August. Downtown LA was the runner up with a one-bedroom median of $2,640.
Check out the map below to see what the median rents are in specific areas of Los Angeles.
(Source: Curbed LA)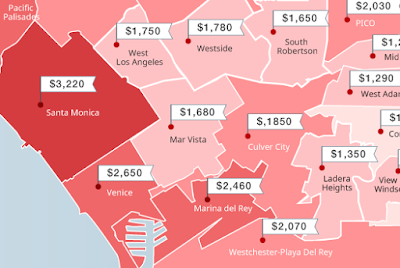 click on image to enlarge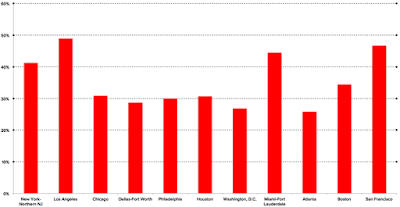 % of income toward rent in major cities- Click to enlarge