The 30-year fixed rate mortgage increased to 3.85% for the week ending October 5, 2017. This is up from last week when mortgage rates held steady at 3.83%, and from last year's 3.42%.
The 15-year FRM also increase two percentage points from 3.13% last week to 3.15%. This is up from 3.72% last year.
However, the five-year Treasury-indexed hybrid adjustable-rate mortgage decreased slightly to 3.18%, down from 3.2% last week but up from 2.8% last year.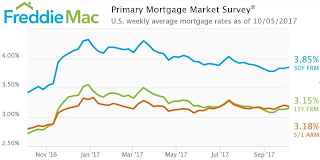 Source: Housing Wire