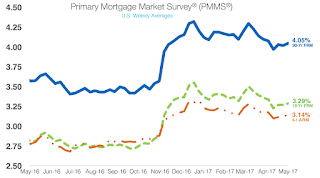 click to enlarge
Mixed economic reports over the last few weeks have anchored the 30-year mortgage rate around the 4% mark.
The 30-year fixed rate mortgage (FRM) is at 4.05% which is up slightly from the 4.02% last week. Last year at this time, the rate was only 3.57%.
The 15-year FRM is 3.29%,
up from 3.27% last week and 2.81% last year.
The five-year Treasury-indexed hybrid adjustable rate mortgage is at 3.14%, up from 3.13% last week and 2.78% last year.
Source: Housing Wire