Baldwin Hills and its surrounding areas have been on fire from a real estate perspective for some time and we are expecting that to continue with Expo's Crenshaw line slated to open in the next five years and information surfacing that the new Baldwin Hills Crenshaw Plaza transformation will be completed in 2020.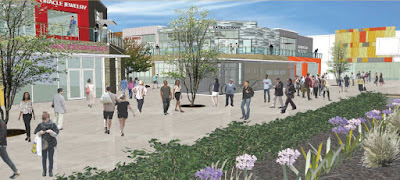 Artist rendering of Baldwin Hills Crenshaw Plaza
The Plaza is a much-anticipated project for the neighborhood with plans to turn it into an urban village much like Pasadena's Americana, including a completely rehabbed retail space, hotel, offices and more.
With housing becoming difficult to afford on the Westside and beautification projects and mass transit redefining the outlook for areas like Baldwin Vista, Leimert Park and Crenhsaw Manor, it is no longer a secret that these areas are a hot spot with investors and young families and we still believe some great opportunities will be had in these up and coming areas for years to come.
Source: Partners Trust Company Blog