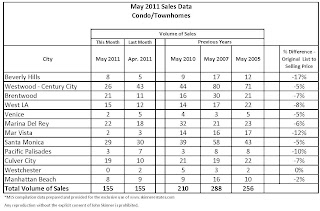 Sales volume matched last month's at 155. Compared to last year, sales volume is down 35% and good inventory is hard to find with many willing seller's unable sell their place since they would be short to the bank.
To give you some perspective, sales volume for May is off 85% since 2007 when we saw record volume. With the market declining at least 20% since then and many people refinancing many people can't afford to sell. The good news is a seller that is priced appropriately will attract a lot of attention and command a strong buyer.
Since inventory is declining, so is the gap between list price and sale price. The average difference is around 6% when you take into account areas with more than ten sales. This difference was over 12% a year ago.