** Today is the last day that a purchaser can qualify for the $8,000 federal tax credit. A fully executed contract must be completed today and escrow must close by June 30th to receive the credit. Starting May 1st, the state of California is offering a $10,000 tax credit that can be spread over a three year period on the purchase of new construction…speaking of which, the new single family residences in Playa Vista known as the "ICON" development will be releasing its next phase for sale on May 22. There will be eight homes ranging from 3,200 sq. ft. to 3,800 sq. ft. Pricing will start in the $1.1M range.
** Great web-site for those shopping for a home loan: The website www.freerateupdate.com, tracks wholesale loan rates available to brokers. On Thursday morning they said such well qualified borrowers who paid 0.7% to 1% of the loan balance upfront to a broker could get a 30-year loan at 4.875%.
**Fixer Frenzy: 850 Norman Place in Brentwood (1 mile North of Sunset off Bundy) debut early this week on the market for $1,450,000. The 4+3.5, 2,794 sq. ft. house on a 10,0018 lot has already received 6 offers and most are above asking with two of them supposedly being presented by builders. This home will either be torn down or gutted.
**Fixer Frenzy Part II: Fixing in the hood is hot! Check out this LA Times article: Flipping houses is back in South LA
** Celeb Corner
– The Bel-Air estate recently owned by actor Nicolas Cage that went to a foreclosure auction with no bidders is back on the market for $12.75 million. This is a gargantuan drop from the debut list price of $35 million in the past two years. The foreclosing lender was one of six holding a total of $18 million in loans on the 11,817 sq. ft. monstrasity featuring a 35-seat home theater, six bedrooms and nine bathrooms…Wow…talk about the false tale of American Treasure.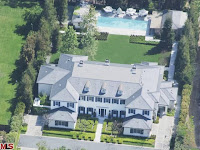 – Former William Morris chief Jim Wiatt has put his latest creation in the Pacific Palisades on the market for $19,500,000. The modern style Georgian mansion is 11,544 sq. ft. on just under an acre of land and was built in 2007. The house takes about 15 minutes to walk through and definitely defines luxurious living. I can see this home easily falling into the lap of another Hollywood Executive. The one downside to the property appears to be the lack of kitchen space for a home this spectacular but Wiatt has entertained for hundreds and wanted to have a true family style kitchen. I think it will be tough for this property to command a sales price north of $15 million but will see…you never know what can happen in this price range…
Wiatt is planning to move to New York to see if it is a good fit for the family but I think he will eventually be back in the Palisades since he is so entrenched with the movers and shakers of Los Angeles along with having some of the best paddle tennis courts in the country at his disposal. Wiatt is known for building some very nice houses in Los Angeles over the years but don't expect him to build again if he does come back. . .
**When the Santa Monica Place opens in August, the third floor dining area will include views of the Pacific Ocean, six chef-driven restaurants and a wine bar and beer garden…talk about an upgrade from its predecessor…another great reason to live on the Westside!
**We will have an analysis of April sales posted next week along with an anlaysis of certain homes sales in specific price ranges! Make it a great weekend!