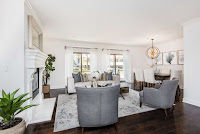 1522 Amherst #101
One chance is all you have to make a first impression on a buyer, and it needs to happen within the first three weeks of being on the market to maximize a seller's leverage and sale price. Thanks to major technological advantages allowing consumers to access information within seconds, the time in front of a consumer is continually shrinking. An emotional connection must be made early on!


Despite a slowing market, we attracted multiple offers and sold two condos, 1522 Amherst Avenue #101 and 11687 Montana Avenue #209. They were priced around the true market value and were professionally staged and painted. We cannot emphasize enough how important these steps were in getting the properties sold.
Staging and preparing a house to show in the best light is not cheap but you end up making money on the investment.
Here are some compelling facts from a 2017 study by the National Association of Realtors regarding staging: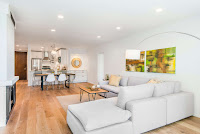 11687 Montana #209
* Professional home staging considers the wants and needs of buyers and taps into their psychology when searching for a home.

*81% of buyers say home staging makes it easier to visualize the property as their future home.

*45% of buyers say it will positively impact the value of the home if it is decorated to the buyer's tastes.

*Among REALTORS® who typically represent the buyer, 49% report most buyers are affected by home staging.

*Once staged, homes spend an average of 73% less time on the market.

*A National Association of Realtors survey found that the longer homes stay on the market, the further their price drops.

*Buyers are willing to spend 1% to 5% more of the dollar value on a staged home than a non-staged home.