It seems like it would be a simple thing to do – look at a house on the internet, go and see it and enlist that agent to make a deal and represent both sides. Let's look at this more closely.
In an analysis of homes that were bought between 2003 and 2006 in Manhattan Beach and then sold again in the past year, we generally see that prices are back to 2004 levels or are very close to those numbers. The good news for seller's is the market has firmed up quite a bit around mid to late 2004 prices after trending toward 2003 numbers. Now, you will always have exceptions to the rule in either direction but one particular sale caught the attention of the Manhattan Beach Confidential blog.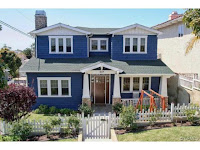 Look at 319 S. Poinsettia in the Hill Section, a big (6br/6ba, 4825 sq. ft.) Craftsman that is positioned as far south as you can get – it borders Boundary Place, the alley/street that divides Manhattan Beach from Hermosa. The home has no views, is positioned on an odd slanted lot and hasn't been improved from its 2004 condition.
In 0ctober 2004 it sold for $2.137M and in the past week it sold for $2.495M, a 17% mark-up from late 2004 levels. This mark-up is a bit alarming and one thing that can be noted right away is the buyer used the listing agent on the deal. Some buyers will go through a listing agent to try and make sure they get the deal and possibly save a little money.
***However, buyers that go through the listing agent need to clearly understand the listing agent's fiduciary responsibility is to the seller! Had the buyers on this particular property used a reputable local agent, they possibly could have saved themselves $130-200K on this transaction. Plus, a buyer's agent acting in the best interest of their client is invaluable when it comes to the request for repairs process and having a strong pulse on the trend of that particular market. Local areas such as Manhattan Beach and Santa Monica operate on a micro level and could be trending far differently than what people read about nationally or regionally in the newspaper.
Another area where it is important to work with a reputable agent is internet errors and wading through the misinformation that can be found online regarding comparable properties. Around 21% of the data realtors individually submit for posting on real estate web sites is not updated or erroneous when changes are made to the price or when the property is sold, according to a report released last month by Trulia. Though the data available online is undoubtedly helpful, misinformation and properties that are listed on the web but aren't actually for sale can add up to a handicap for buyers. "You're probably going to get exposed to inaccurate information," says H. Pike Oliver, executive director for industry outreach at Cornell University's Program in Real Estate. "There's no real assurance."
Always make sure you consult with a reputable agent before making any major decisions.
Source: Manhattan Beach Confidential, Smart Money