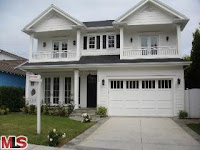 The fascinating life of 720 Almar in the El Medio area of the Palisades has written yet another chapter. One of the investors who was fortunate to purchase the home from the bank at the bargain basement price of $2.150M has decided to move-in to the property after it didn't sell in an ill-fated flip attempt at $2.695, $500K more than what it was purchased for in August. The roller coaster ride for this property is finally slowing down for the time being.
The current owner made a very good buy at $2.150M but in a market where the only word that seems to come out of a buyer's mouth is "Value" it is extremely difficult to flip home for such a substantial profit especially when the perception of the home has been slanted due to water intrusion issues it faced while being on the market for such a long period of time.
Quick recap: Built in 2008, the home first appeared on the market in late 2008 for $3.749M. The house spent all of 2009 on a rather steep decline in asking price to $2.995M as rumors began to perculate about some construction issues with the home. Once the builder saw the writing on the wall, the house was essentially stripped of most appliances and fixtures and the house went back to the bank in 2010. It appeared back on the market as an REO for $2.345 which seemed like a great deal. However, the bank put in some cheap appliances, negative rumors persisted about the house and the listing agent was known for being unwilling to work with other real estate agents. Eventually the home sold to the current owner at $2.150 in all cash offer.