*The current temperature of the market is warm and sunny with some areas/price points still experiencing the heat wave of this past spring while others are trending toward the cooler holiday weather earlier than expected. Anything below about $1.3M in proper Westside locations (both condo and house) is commanding quite a bit of attention. As you start to climb into the middle to high-end of a certain area, we have noticed the "pretenders/lookey-loos" aren't bouncing around as much and buyers aren't in as big of a rush to snap something up. The Silicon beach impact is keeping the heat index high in Venice, Mar Vista, South Santa Monica, Playa Vista, Marina Del Rey, Playa Del Rey and Westchester.
*We are noticing a fairly strong ceiling develop along most price points and areas when it comes to different types of inventory. Once you move away from the entry level price points, buyers across the board are much more hesitant to cross certain thresholds that were set earlier this summer. It will be interesting to see if this continues into 2018 or if we will break through thresholds like we did earlier this year.
*Staging and first impressions is as important as ever with the new generation of millennial buyers. The extra expense the seller incurs with staging and prepping the unit is WORTH IT!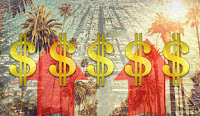 *According to a recent USC Economic forecast, renters in Los Angeles will pay roughly $136 more a month for housing in 2019. The increase is attributed to low housing availability and a roaring Los Angeles economy.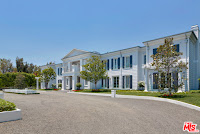 1525 San Vicente
*Some big deals went down in recent months in North Santa Monica. After Modern Family co-creator Steve Levitan sold his 43,379 sq. ft. mansion on Woodacres Road, which borders Riviera Country Club, for a record Santa Monica price of $41.08M in an off-market transaction, Colony Capital billionaire and President Trump's right-hand man Tom Barrack Jr. sold 1525 San Vicente Blvd., a 23,500 sq. ft. home that sits on 1.35 acres overlooking Riviera, for $34M. This was also an off-market transaction. Barrack purchased the home in 2014 for $24.5M. Barrack did have the home listed last year for the absurd price of $46.5M. Interestingly, and under the radar, Barrack recently purchased 2219 La Mesa Drive for $13.1M. The 6,800 sq. ft. house was on the market last year for $14.775M.
*In honor of the late great Tom Petty, check out this cool LA Weekly article from 2008 that outlines Tom Petty's LA