The Purple Line which currently only reaches Koreatown from Union Station, is being extended along Wilshire Blvd. The extension will bring the rail line 9 miles further west to the border of Westwood and Brentwood (see map below). The construction currently underway includes plans for stations at LA Brea Ave., Fairfax Ave., La Cienega Blvd. and Rodeo Dr. before shifting south towards Constellation Blvd. and Avenue of the Stars in Century City. It will then move north for the final two stops at UCLA and the Veterans Affairs Hospital.
The project, which began in 2014, is expected to be partially open to riders by 2023. With final sections opened before the Olympics in 2028. When complete the ride form the VA Hospital to Union Station will take 28 minutes.
Source- LACURBED- full article–
Also, here is a link to an article about Beverly Hills High students protesting since the subway will travel underneath the school.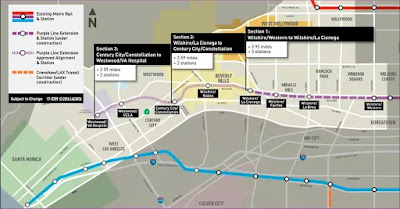 (click on map to enlarge)