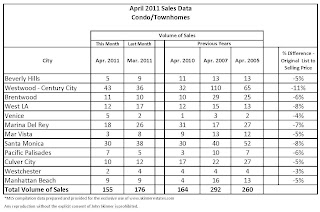 *click graph to enlarge
According to the MLS, overall sales volume for condos in the areas we cover decreased in April and was lower than sales in April of last year by 5.5%. However, this is not surprising since we have been writing about decreasing inventory. In fact, the market has heated up with the spring and summer selling season and that is evident with the average days on market and % difference between original list price "OLP" and sales price is decreasing significantly. For example, the % difference between OLP and sales price in March had 3 areas in the double digit range and many hovering around 7-9%. April only had one area in double digit % (Westwood/Century City 11%) and most were around 4-6%. Earlier in the year, the majority of the areas we cover had a double digit discrepancy.
As many of you know from reading this blog, the recent surge in buyer demand has been fueled by low interest rates, an influx of buyer's from tech companies relocating office space to the Westside and a general feeling that the economy seems to be on solid ground. The frustrating thing for buyer's is that inventory is artificially low because so many people have a loan that is higher than what the property is worth and the bank's continue to unload properties at a snail's pace.
A quick look at the overall volume of sales shows that Beverly Hills and Mar Vista saw a drastic reduction in sales compared to last month and only Westwood and Brentwood showed an increase in sales volume over last month. In comparison to April 2007, sales are off 88%.