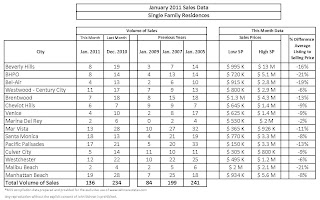 *Click graph to enlarge
It was chilly month for sales volume in January on the Westside and in Manhattan Beach compared to the previous few months of sales. This can be attributed to the holiday slow-down with people waiting to start really looking for a home in January and February and the inventory of available homes not being very strong.
Sales in January are definitely quite a bit stronger than during the start of the Great Recession with a solid 39% increase over January 2009 sales. However, sales are still down 32% compared to 2007 and 43% compared to the market hay-day of 2005.
When analyzing the sales data for the month and eliminate extremes in Original List Price vs. Sales Price, we find the gap is shrinking to 5 to 7%, whereas the difference was about 10% in mid 2010.
A few notes on areas and individual sales:
Santa Monica – As I mentioned in a previous blog post, 848 23rd St. a tear-down on an 8K lot was listed at an auction price and received over 20 offers and ended up selling 40% higher at $1,385,000.
On the flip side, 22 Latimer Road a 4 bed/4 bath, 2,800 sq. ft. home was originally on the market for $2.99M and sold 30% lower then asking price after being on the market for a year and having several price reductions.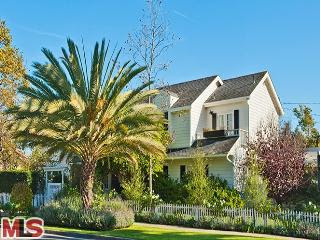 The majority of homes in Santa Monica sold for 7% below list price to 3% above list price. 720 Georgina a 5 bed/3 bath sold slightly over asking price at $3.009M and was only on the market for 2 weeks before going into escrow.
Pacific Palisades- 387 Arno Way a 2400 sq. ft. 4 bed/ 2.75 bath home was listed at $1.485M in July and sold 2% above listing price at $1.513M.
621 Amalfi Dr., 4 bed/4 bath, 4,094 sq. ft. with a lot size 14,240 sq. ft. was originally listed at $3.995M and sold for 2.6M, 28% below list price. It was on the market 9 months.
**The low-end 150K sale price for the Palisades was for the sale of an attached mobile home off PCH.
Manhattan Beach- 3116 Manhattan Beach Ave. a 3,293 sq. ft., 3bed/3 bath home was originally listed at $3.1M and eventually sold for $2.0M, 35% below the original list price. The majority of single family residences sold for 7% less than the original list price.