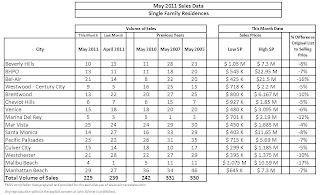 Though on a national level inventory is at an all-time high, the Westside has clearly bucked that trend. Inventory continues to decrease and homes that are priced appropriately are attracting a frenzy of buyers and leading to price stabilization. Due to the lack of inventory, sales volume has decreased month over month for the third straight month in the areas we track. Bel-Air, Pacific Palisades and Malibu Beach were the only areas to truly buck the trend of declining sales volume. Santa Monica (down almost 50%), Westchester and Brentwood fell off in sales volume significantly compared to last month.
Overall, sale volume is slightly off last year's number's (225 vs. 242) and 47% off the hey-day of 2005 and 2007.
The average difference between original list price and sale price continues to shrink back to normal levels (4-6%) in most areas. The pricey locales of Bel-Air and Malibu Beach had a large discrepancy but those can be attributed to a few high priced listings that were severely overpriced and finally sold for market value. If you take those out of the equation the average would drop in the 7-9% range.
A quick look at a few individual sales: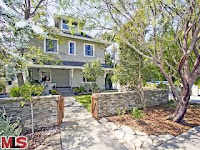 627 Grand View (Mar Vista)-
This 6+6, 3,792 sq. ft. 3-story recently updated craftsman home on a 11,786 sq. ft. lot sold for $1.685M. At first glance one would think it sold for well over the asking price of $1.495M. However, it was originally listed under a different agent for $1.8M late last year and they did not find a buyer. The new list price created a buzz and helped the seller get market price with strong terms.
1105 Centinela Ave. (Santa Monica)- This 4+ 2, 2,111 sq. ft. house on a 9K sq. ft. lot sold for 8% higher than its list price at $1.623M. This ranch style home is a fixer and was priced around land value.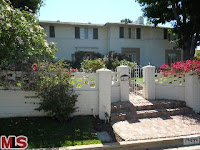 11434 Ayrshire Road (Brentwood)
– This 4+4.5, 4,258 sq. ft. house on a sizable lot of 18,817 sq. ft. sold for $2.225M. The home is in need of cosmetic remodeling but does boast very good bones with sizable living areas and bedrooms. It was originally listed in September of last year for $3.195M which denotes a 30% loss in an 8 month period.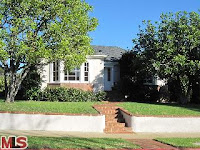 1056 Iliff Street (Pacific Palisades)-
This 2+2, 1,641 sq. ft. house was a short sale that was listed at $1.2M in January, increased to $1.3928M in February and sold in probate court for $1.326M. This is a classic case of what can happen in probate and short sale situation. The listing agent prices the house below market value and gets an accepted offer. Since the offer has to be fully approved by the court or bank, it is still listed as active in the MLS but at the price of the accepted offer. 60% of the time the original offer falls out as was the case in this instance.
*Source: MLS