Mortgage rates continue to hit new lows this year as the Treasury yield reached a new 2017 low for the second consecutive week, according to Freddie Mac's latest Primary Mortgage Market Survey.
The 30-year fixed-rate mortgage "FRM" dropped to 3.78% for the week ending September 7, 2017. This is down from last week's 3.82% but up from 3.44% last year.
The 15-year FRM also decreased, dropping to 3.08%, down from 3.12% last week. This is still up from last year's 2.76%.
However, the five-year Treasury-indexed hybrid adjustable-rate mortgage increased slightly from last week's 3.14% to 3.15% this week. This is up from 2.81% last year.
Freddie Mac stated the 30-year fixed-rate mortgage followed in the steps of the 10-year Treasury yield, hitting yet another new low for 2017.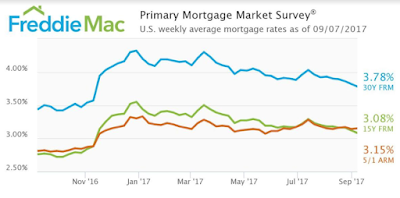 click to enlarge
Source: Housing Wire& Freddie Mac