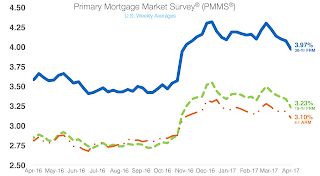 click to enlarge
Mortgage rates dropped below the psychologically important 4% mark, hitting the lowest point since November of last year.
The 30-year fixed-rate mortgage dropped to 3.97% for the week ending April 20, 2017. This is down from last week's 4.08% but still up from last year's 3.59%.
The 15-year FRM dropped to 3.23%, down from last week's 3.34% but up from last year when it averaged 2.85%.
Weak economic data and growing international tensions are driving investors out of riskier sectors and into Treasury securities thus causing a shift in investment sentiment which has propelled rates lower.
The drop in rates in an environment where rates are expected to rise has increased pressure on serious buyers to find a home which gives more leverage to sellers.
Source- Housing Wire & Freddie Mac Chief Economist Sean Becketti