Following last week's decline, mortgage rates fell for the second consecutive week.
The 30-year fixed-rate mortgage averaged 4.54% for the week ending June 7, 2018, down from 4.56% last week, but up from 3.89% last year.
The 15-year FRM decreased to an average 4.01% this week, down from 4.06% last week and up from 3.16% in 2017.
The five-year Treasury-indexed hybrid adjustable-rate mortgage decreased to an average 3.74% this week, down from 3.80% last week. This time last year it was 3.11%.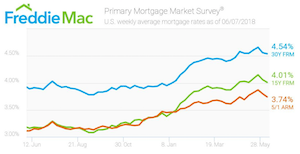 Source: Housing Wire