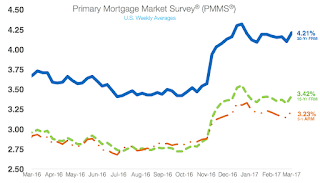 The 10-year Treasury yield rose about 10 basis points this week. For the first time in weeks, the 30-year mortgage rate moved with treasury yields and jumped 11 basis points to 4.21%. The 30-year fixed-rate mortgage increased to 4.21% for the week ending March 9, 2017. This is up from last week's 4.1% and from last year's 3.68%.
Likewise, the 15-year FRM increased to 3.42%, up from 3.32% last week and 2.96% last year. The five-year Treasury-indexed hybrid adjustable-rate mortgage increased to 3.23%, up from 3.14% last week and 2.92% last year.
"The strength of Friday's employment report and the outcome of next week's FOMC meeting are likely to set the direction of next week's survey rate," said Freddie Mac Chief Economist Sean Becketti.
Source: Housing Wire