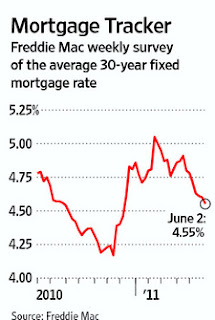 Home loan rates continue to fall as does mortgage demand
Responding to sluggish economic and housing data, mortgage rates have fallen for the seventh straight week, following the yield on Treasury bonds to new lows for the year.
But many people remain on the sidelines of the housing market, expecting further price declines or unable to refinance their existing home because they have little or no remaining home equity.
The yield on the 10-year Treasury note, a benchmark for home lending rates, dropped below 3% on Wednesday for the first time since early December and mortgage rates also fell to levels not seen since then, according to the widely watched Freddie Mac Survey of lender offering rates.
Freddie Mac said Thursday that the typical rate for a 30-year fixed-rate home loan declined to 4.55% this week from 4.60% a week earlier. Not since the week of Dec. 2, when the survey showed the 30-year mortgage at 4.46%, have rates in the survey been lower.
The 15-year fixed loan averaged 3.74% in the latest survey, down from 3.78% a week ago and the lowest since Nov. 11, when it was at 3.57%.
Borrowers in the survey would have needed good credit and 20% down payments or 20% home equity in the case of refinancing to obtain the rates. They would have paid 0.6% of the loan amount on average in upfront lender fees to obtain the 30-year loan and 0.7% for the 15-year loan, Freddie Mac said.
A weekly survey by the Mortgage Bankers Assn., released Wednesday, found that applications for new mortgages decreased by 4% during the week that ended May 27, compared with the previous week. Refinance applications were down by 5.7%.
"The last time mortgage rates were this low, refinance volume was more than 20% higher," said Mike Fratantoni, the mortgage trade group's vice president of research and economics. "It is likely that many borrowers still cannot qualify to refinance given the lack of equity in their homes."
Source: LA TIMES, CNN