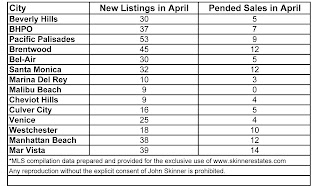 New listing activity for single family homes continued its upward trend over the past few months. The leaders were Westchester increasing from 18 listings in March to 38 in April; Cheviot Hills went from 9 to 17 and Venice went from 25 to 39. The few notable exceptions were Santa Monica with only 32 new listings in April compared to 48 in March while Manhattan Beach dropped from 49 to 38.
The increase in new listings along with seller's competitively pricing properties is leading to pending sales continuing to increase as well. Despite having fewer new listings in April, Santa Monica went from having 5 pended sales in March to 12 in April.
Westchester had 6 properties go into escrow within 7 days of coming on the market and they were all multiple offer situations. Manhattan Beach had 5 properties and the Palisades had 3 properties go into escrow within 7 days of hitting the market.
Malibu Beach continues to struggle with sales volume and long escrow periods. The home to many celebrity enclaves only has 1 pended sale in March and April. Obviously the number could be higher with off-market deals that frequently happen in the area but even with that activity they are still probably functioning at below 50%of activity in 2005.
If you would like information about a specific property, please send our office an e-mail or give us a call at 310-255-3447.