Fortunately, our office has been very busy and along with the 4th of July holiday we have fallen a little behind on keeping you updated with the market. However, we are back and will continue to provide you with the straight and non biased info you have come to expect from the Skinny on Real Estate.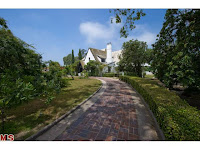 In our last update, we spoke about the Kathryn Grayson estate on La Mesa Drive being listed for $8.995. Despite the funky lot lay-out and potential historical preservation of the home the new owners will have to take on, the property went into escrow within three weeks of being on the market. The bottom line: When you have an acre+ of land with views on the Westside, the wealthy take notice and flock even in tough economic times.
– Are the Biggest Mortgage Defaulters the Rich?: Check out this article…
– Westside inventory continues to rise: Inventory has steadily been creeping up since hitting lows in late 2009/early 2010. In fact, inventory levels running at the second-highest since 2006.
– Commercial Note: With vacancies still on the rise in commercial properties in most parts of the U.S., construction of new buildings is expected to be rare this year and next, the American Institute of Architects reported.
Even with modest improvements in the economy, construction spending on hotels, office buildings, warehouses and malls is expected to decrease by more than 20% in 2010, followed by a marginal increase of about 3% in 2011, the architecture trade group said.
Real estate development should begin to turn around midway through next year with stores and hotels expected to see the strongest growth, along with new healthcare and amusement and recreation facilities.
– Lesson of the week: As you will see from my analysis of certain sales in Mar Vista and the Pacific Palisades, if you are going to sell, don't chase the market. Be realistic about pricing otherwise you will sit on the market a substantial period of time while the property depreciates. Furthermore, realistic and aggressive pricing usually leads to favorable contingency periods and an escrow that will stick and not fall out. In this market, the most frequent word a buyer uses is "VALUE". If they don't see value, they don't offer.
– Real Time Altos market research will be back in the next few weeks. We have had some technical issues with the reports that we are trying to get resolved. Overall, the Westside market is still favoring buyer's and has cooled down from the hot spring selling period. We will see if the record low interest rates begin to put a charge into activity. My last few open houses have been strongly attended but no offers have come in.