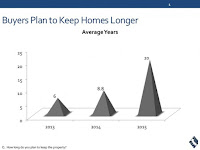 Buyers plan to stay put longer and the process of finding a home is taking more time– A recent survey of buyers by the California Association of Realtors "CAR" stated that buyers are planning to stay longer in their homes…for an average of 20 years! This is far above the six years that home buyers were forecasting in 2013.

The survey also noted the process of buying a home is the longest it has been since CAR has been tracking the statistic.

Even before contacting agents, buyers spent an average of 14 weeks exploring properties and neighborhoods. Once they engaged an agent, the process took an average of 12 weeks to get a home in escrow.

The process is typically taking even longer in the nicer areas of Los Angeles due to low inventory.
Mar Vista closing the gap on South Santa Monica but not on the high-end:The popularity of Mar Vista with the young families and the Silicon Beach crowd has resulted in 17 homes in Mar Vista selling for over $2M in the first half of 2015. Only 10 sold for over $2M in the first half of 2014. No sales were made above $3M.

In comparison, South Santa Monica (90405) had only 16 home sell for over $2M the first half of this year but five sold for over $3M. The average sale price was $2.658M while it was only $2.358M in Mar Vista.

The appeal of Santa Monica's school system, city services and better walk score will always create a value difference despite Mar Vista's surge in popularity.
Chinese investors have been very busy purchasing property in LA, but some are selling…is this a sign?- For the past three years the international buyer, especially the Chinese, have made a big impact on Los Angeles real estate.

In 2014, $22 billion in Southern California real estate was purchased by the Chinese.

We are still seeing strong purchase activity from China but not at the rate we were seeing a year ago.

With the Chinese stock market on shaky ground, we have seen an uptick of luxury homes being sold by Chinese property owners.

With the financial markets in China predicted to continue to struggle, will this begin to negatively impact the So Cal housing market? In the mid to late 1980's, the Japanese bought quite a bit of west coast real estate and were quite aggressive much like the Chinese have been.

When the Japanese stock market crashed in the early 1990's, a massive sell-off of Japanese owned property shortly followed and contributed to a fairly significant drop in Southern California real estate values.

The dynamics are different but it is something to keep an eye on.
Fun Fact: Only 11% of California homes (including both renter- and owner-occupied homes) have an earthquake insurance policy, according to the California Earthquake Authority.
Mortgage note– If you pay $150-200 more a month toward your mortgage you will be surprised how much you will end up saving in the long-run even at the historically low interest rates we are currently experiencing.
Why should the homeowner lose the right to have grass?

Is it fair for the government to dictate how much grass you can have in your yard? New construction and extensive remodels will require that only 25% of the landscaping be grass.

We are in a significant drought but will that always be the case?

Shouldn't a land owner have the right to pay a higher rate for water if they choose?

Instead of bothering homeowners who only account for a very small percentage of the state's water use (state agriculture is the major water user) the state and local municipalities need to focus on capturing storm run-off and figure out more efficient ways for farmers to water crops.

With a strong El Nino expected, it would be nice if Southern California could take better advantage of what is expected to be a significant rainy season.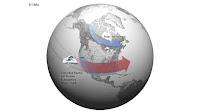 click to enlarge
Speaking of El Nino…Prepare your property!– We strongly encourage all of our readers to deal with any potential drainage issues (ex- water not draining away from your home/foundation, clogged gutters, drains) sooner rather than later.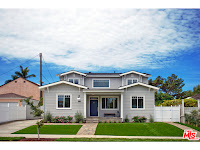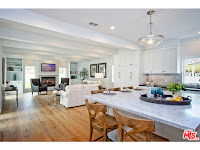 Home of the week- Quick $3.2M sale in Santa Monica near Pico– 2432 32nd street is a brand new 3,363 sq. ft. traditional 5+4 home on a large 9,007 sq. ft. lot that came on the market for $3.2M and immediately sold right after the broker caravan.

The builder did a very nice job with the details of the home and when you combine its emotional appeal and large lot, one can start to look past the ½ block proximity to a stretch of Pico that is not the most aesthetically pleasing.

The house features a large gourmet kitchen that opens to the living room, huge windows providing tons of natural light, vaulted ceilings, luxurious master and drought resistant landscaping with the majority of it featuring turf.