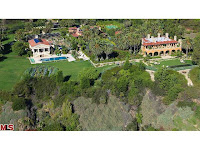 Real estate developer Richard Weintraub has listed his Malibu home for about $35 million. If you add in the four adjacent lots and guest homes that sit on them, the price leaps to $75 million, making it the highest-priced listing in Malibu and one of the top properties listed in greater Los Angeles.
The property has been featured in the movies "Funny People" and "I Love You Man," and is also available for lease at $87,500 or $250,000 per month, depending on how much is needed.
The property is an 8-acre estate featuring a three-story home of 12,500 square feet with four bedrooms and eight baths. There are three swimming pools, including one in Greek revival style with walls lined with more than 500,000 seashells and a glass ceiling. The resort-style property includes a north-south tennis court and parking for up to 10 cars.
Sources: MLS and Los Angeles Business Journal