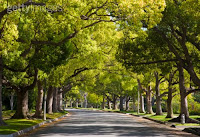 The golden triangle from Beverly Hills in the east to Santa Monica on the West and Mailbu to the north encompasses is considered one of the most desirable places to live in the world and encompasses a majority of the best streets in Los Angeles. Functioning as a playground for the rich and famous these streets comprise some of the best mansions in town and are the residences of some of the most influential people in the world. Thanks to growing up in the area and articles about the subject in the Los Angeles Times and Wall Street Journal, here is a rundown of the most desirable streets and my stab at ranking them.
1- Mapleton Drive, Holmby Hills: Backing up to the fairways of Los Angeles Country Club, Mapleton Drive was ranked one of top streets West of the Mississippi by Wall Street Journal. The quality and size of the properties along with the views of Los Angeles make it extremely coveted. Home to the Playboy Mansion, high-end buyers feel very comfortable purchasing property where everything around it is established with at least a 10-20 million value and sometimes well beyond that.
2- Oakmont Drive, Brentwood. This private street at the end of Rockingham Avenue is very secluded and a perfect getaway from the hustle and bussle of Los Angeles. The street never has any traffic on it and is known for its secluded setting, large mansions and powerful residents. Another 10 million++ street.
3- Bellagio Road, Bel-Air: The highest-price home transaction ever in California took place on this street. The 2000 sale of an 8-acre estate by Dole Food Co.'s billionaire owner, David Murdock, to financial executive Gary Winnick in a $95-million deal. Most of the lots are flat and views of the Bel-Air Country Club and the ocean distinguish this leafy road paralleling Sunset Boulevard.
4- North Carolwood Drive, Holmby Hills. Just around the corner from Mapleton, North Carolwood has been the address of tons of celebrities. At 2 to 4 acres, these are some of the biggest parcels on the Westside and can sell in the $20-40 million range.
Gregory Peck's longtime home was sold in 2004 for about $22 million. Michael Jackson rented here at the time of his death.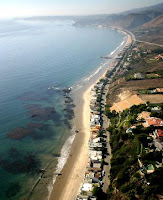 5- Malibu Road, Malibu. This coastal street is shielded from busy PCH to the east, offering ocean views and a relatively quiet neighborhood that celebrities love. Those who buy on this street tend to stay a very long time.
6- Napoli Drive, Pacific Palisades. Properties on the south side of Napoli are prized for their views overlooking the Riviera Country Club and considered the most desirable in ritzy Pacific Palisades. Having a backyard bordering a golf course is like having a park behind you.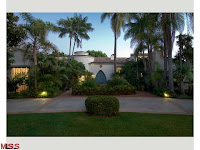 7- La Mesa Drive, Santa Monica. Napoli's neighbor to the North that borders Riviera Country Club, La Mesa is known for its homes of similar value and size and once you turn onto the street you feel you have ventured into a quiet city in another part of the country. Large trees help provide privacy and locals note a strong consistency despite each house being unique in its own way gives the street high marks. Homes "on the rim" side of Riviera can bring close to twice as much as south-side properties.
8- Amalfi Drive, Pacific Palisades. North Amalfi has canyon views to Will Rogers State Historic Park, while some homes on the south end have ocean and Riviera views. Over the years it has been popular with such entertainers as actor Cary Grant, comedian Jerry Lewis and singer Bobby Vinton.
9- Maple Drive, Beverly Hills. Maple Drive, north of Santa Monica Blvd, boasts the largest lots among Beverly Hills' flatland areas, and the homes have a continuity of design and landscaping. The street is quiet and traffic is light despite being right near Sunset. Homes usually value in the $10 million plus range
10- Bel Air Road, Bel-Air. Approached through the arch at the East Gate entrance of the community, this winding street has city and ocean views as it climbs. Tall, dense hedges create an air of inaccessibility and its location is close to Westwood Village.
Other Top Streets:
**Malibu Colony Drive, Malibu.
**Georgina Avenue, Santa Monica
**Cliffwood, Brentwood
**Carmelina, Brentwood
**Corona Del Mar, Pacific Palisades
–*Sources: Los Angeles Times; Wall Street Journal…various articles written in the past few years.