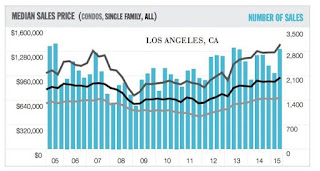 click on image to enlarge
The Los Angeles housing market continues to be robust with no signs of abating in the near future. Average sale prices hit record highs in many areas (both single family and condos) and the number of sales rose to the highest second-quarter total in a decade. . The Westside luxury market (ex. Santa Monica, Pacific Palisades, Beverly Hills) saw strong growth, proving the enduring value of these communities commands a premium.
Manhattan Beach reflects the vibrant and strong South Bay market where prices are up by double digit percentage points and the decreasing days on market shows a tight inventory crunch.
Property in areas where prices are a little lower such as Mar Vista and Westchester saw some of the largest appreciation.
Overall, Los Angeles County is on the rise as the value of all assessed taxable property in the county has risen 6.13% in 2015, the largest jump since 2010.
Please click on the image below to download the full report and if you need more detail on your neighborhood please contact us and will be happy to help.