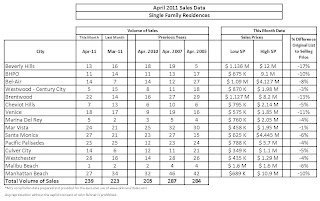 *click graph to enlarge
Unlike the Condo market, sales volume increased in April compared to last month and was stronger than April 2010 in the areas we track. With inventory decreasing and demand continuing to pick up, the market is definitely the hottest it has been in the last 4 years. Homes in good condition that are priced anywhere from 17-20% off the market heights of 2006-2007 are usually garnering multiple offers. The difference between original list price and sale price continues to decrease though Beverly Hills and Marina Del Rey increased in the discrepancy. Sales volume has increased % over April of last year while still % behind sales volume in 2007.
In looking at the broad picture the graph presents, Pacific Palisades, Westchester and Venice doubled its sales volume compared to last April while Cuvler City, Marina Del Rey and Bel-Air doubled sales volume compared to last month.
A quick look at a few individual sales: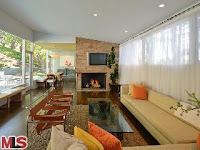 Brentwood-510 North Kenter, a 4+3, 2,150 sq. ft. house on a 20,298 size lot sold for $1.775M – 7% above the asking price and went out in multiple offers after being on the market in twelve days. This was a very stylish contemporary home with a pool and open kitchen.
Pacific Palisades- 15976 Alcima Ave- 5 +3.5, 2,982 sq. ft. house on a 18,300 size lot. This was a tear down and sold for $1.90M, 21% below the original list price .
Down the street, 15920 Alcima, a 4+4, 5,241 sq. ft. house on a 20,470 lot sold for $3.185M, just below the $3.195 M list price and was only on the market for 5 days. This was a well-maintained home with great ocean views and only needed a little cosmetic work.
The bottom line is that people are paying a premium to move into homes that don't require much work while the better deals are falling into the hands of those willing to remodel.