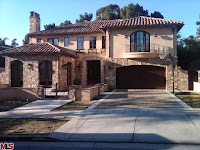 Something isn't right…or is it?
522 25th Street, SM, CA 90402- You gotta love the people who try and cash in on a difficult situation. With short sales and REO's in full swing, shady activities by potential buyer's and agents seem to be in vogue. Now, I have absolutely NO EVIDENCE that is the case with this North of Montana property but it is fishy that this property was never active on the Multiple Listing Service. The listing went into effect on the 19th but was not posted until the 27th shielding it from the market at large. It was listed at the bargain-basement price of $2,995,000 which would have commanded a ton of interest for a home built in 2006 featuring 5 bed+7 bath 6,397 sq. ft. on a 8,700 sq ft lot.
This is troubling as an impartial observer. You would think this type of square footage built in 2006 would be north of $3.5 million. However, it is important to note the house has had previous mold issues, needs landscaping and has some construction defects that need to be addressed. It will be interesting to track what happens with this property. . .
Multiple Offer Hysteria Hits for 848 23rd Street, SM, CA 90403- Listed at an unbelievably low price in Late December, this tear-down attracted a ton of offers with a $989,000 list price.
Essentially, the goal of the seller was to make it a bidding process with the hope the psychology of winning the bid would overcome the rationality of the lot's true value. The tactic worked for the most part. We felt the price of this lot was worth around $1.285-1.315 and it sold for $1.385. Probably would have been better off pricing it around $1.2 and not wasting time with a segment of buyers who really had no chance…but congratulations to the seller's for moving the property quickly at a slightly above market price during the holiday season.