Continuing the trend for most of the year, mortgage rates dropped again, falling to their lowest point in three years.
This marks the third consecutive week of declines. "Disappointing April employment data once again kept a lid on Treasury yields, which have struggled to stay above 1.8% since late March. As a result, the 30-year mortgage rate fell 4 basis points to 3.57%, a new low for 2016 and the lowest mark in 3 years," said Sean Becketti, chief economist with Freddie Mac.
Prospective homebuyers will continue to take advantage of a falling rate environment that has seen mortgage rates drop in 14 of the previous 19 weeks.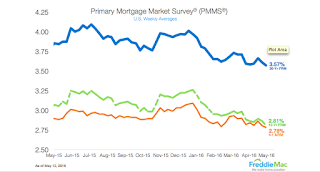 Click image to enlarge
The 30-year fixed-rate mortgage averaged 3.57% for the week ending May 12, 2016, down from last week's 3.61%. A year ago at this time, the 30-year FRM averaged 3.85%.
Also dropping, the 15-year FRM came in at 2.81%, falling from 2.86% last week. A year ago at this time, the 15-year FRM averaged 3.07%.
The 5-year Treasury-indexed hybrid adjustable-rate mortgage averaged 2.78%, decreasing from 2.80% a week ago. A year ago, the 5-year ARM averaged 2.89%. The chart below shows just how low mortgage rates are now.
Source: Housing Wire