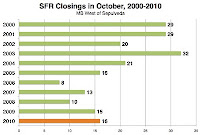 Thanks to the
Manhattan Beach Confidential blog
, they have provided a look at October's sales pace among Single Family Residences west of Sepulveda and it shows that the past two years are back in line with the pre-bubble volume in 2005.
Both Oct. 2009 and 2010 outperformed the 3 slump years of 2006-2008. That's in line with the general sense that a local Real Estate recovery of sorts began in Q3 2009.
The question now becomes whether this is a true recovery or the start of a potential double dip. The current economic recovery tells us we may avoid a dip but quite a few developers and higher end property owners are struggling with the reality of the market and will eventually have to throw in the towel and sell for a realistic price.
Source: Manhattan Beach Confidential