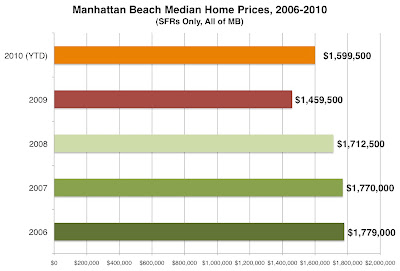 As the chart here shows – looking at SFRs citywide– the median price locally took its biggest hit in 2009, dropping from nearly $1.8m in 2006-07 to a 5-year low of $1.459m. A drop of 18% from 2006. However, the median has bounced back solidly in 2010.
With 230 sales year-to-date (thru Sept. 22), we've got nearly as many closed sales to look at in 2010 as there were in the full years of 2008 (242) and 2009 (265).
This year the citywide median price, at $1.599m, is up 10% from 2009, down just 10% from 2006.
The nice rally earlier this year, lots of one-time failed sellers came back in 2010 and made their deals, the high end returned – are the main reasons why you see in a 10% boost in the median this year.
*Source: Manhattan Beach Confidential. A great resource about Manhattan Beach Real Estate.
The pace of Single Family Residence ("SFR") sales slowed down a bit in the first half of this month, with 7 homes going into escrow. For comparison, in the whole month of March, we saw 24 homes go into escrow.
Inventory has hit the market at about the same pace as March, with 14 new listings in the first part of April – March saw 27 for the whole month. Please note this is just a two week look at SFR sales. Total inventory moved up by 4 listings over the end of March to 85 SFRs total at mid-month. Still pretty lean in comparison to Westside area like Santa Monica and Pacific Palisades. The Sand and Tree sections each have 35 listings while the Hill checks in with 15.
(*sources: Manhattan Beach Confidential, MLS)