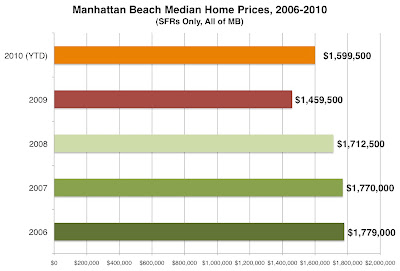 As the chart here shows – looking at SFRs citywide– the median price locally took its biggest hit in 2009, dropping from nearly $1.8m in 2006-07 to a 5-year low of $1.459m. A drop of 18% from 2006. However, the median has bounced back solidly in 2010.
With 230 sales year-to-date (thru Sept. 22), we've got nearly as many closed sales to look at in 2010 as there were in the full years of 2008 (242) and 2009 (265).
This year the citywide median price, at $1.599m, is up 10% from 2009, down just 10% from 2006.
The nice rally earlier this year, lots of one-time failed sellers came back in 2010 and made their deals, the high end returned – are the main reasons why you see in a 10% boost in the median this year.
*Source: Manhattan Beach Confidential. A great resource about Manhattan Beach Real Estate.