After weeks of climbing, mortgage rates have now risen to their highest level in seven years According to the Primary Mortgage Market survey, the 30-year fixed-rate mortgage averaged 4.9% for the week ending Oct. 11, 2018, increasing from 4.71% last week, and significantly higher than last year's rate of 3.91%.
An initial mortgage payment on a $1M loan at last year's rate of 3.91% was 4,721.41. The same initial payment at 4.9% is 5,307.21, an increase of over 20% at $600.00 per month or $7,200.00 over the course of a year.
The 15-year FRM averaged 4.29% this week, moving forward from last week's 4.15%. This time last year, the 15-year FRM was 3.21%. The 5-year Treasury-indexed hybrid adjustable-rate mortgage moved to 4.07% this week, moderately increasing from 4.01% last week. This is substantially higher than this time last year when it averaged 3.16%.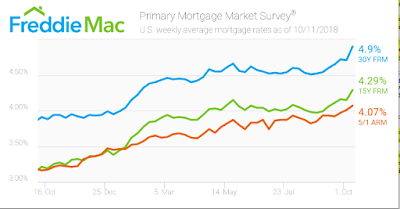 Sources- Housing Wire