Until this year, the acceleration in housing prices in Los Angeles the past few years was largely driven by investors. We expect the housing market to continue to appreciate over the next 12 months as employment and incomes continue to improve. The Westside and South Bay will continue to see a multiple offer environment with the continued growth of Silicon Beach bringing high paying tech jobs to the area to supplement the already strong demand in a low inventory environment. A potential hiccup would be if the current stock market correction continues a strong downward spiral that would hit the tech sector hard enough that the growth of Silicon Beach is stalled.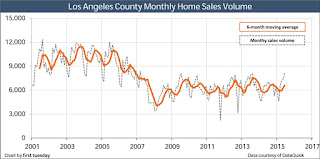 click to enlarge
Despite home sales volume rising over last year, we still predict volume to stay low compared to historical standards with people reluctant to give up low interest rate loans and lower property tax base for a more expensive property that is also difficult to find in this market.
Though the outlook looks good in the near future, sine real estate economists feel the impending Fed rate hike will lead to a decrease in home values from late 2016 into 2018. History has shown us that prices naturally fall 9-12 months following a sustainable increase in mortgage rates as the rise in rates will decrease the amount of principal homeowners are able to borrow with the same mortgage payment. This will hit the market at all levels with more of the impact felt on the lower and mid-tier markets. Obviously rates will need to increase for this outlook to take shape and rates have been expected to rise for the past 12-18 months and it has not happened.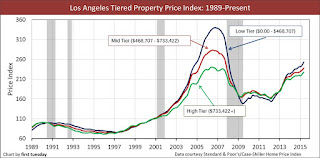 click to enlarge
The most sustainable prerequisite to a long-term rise in prices occurs when access to full-time jobs is optimal and according to economists, we will start to see that again in 2018. Once the international markets stabilize, we will see another strong international push to acquire Los Angeles real estate which is also predicted to begin around 2018-2019.
The start of another price appreciation run should be upon us at the end of the decade. In the long run, Westside real estate has proven to be a phenomenal leveraged investment and it will continue to be that way as it is one of most desired places to live in the world. However, prices will depreciate, as we saw from 2007-2009, and as long as you have a long-term outlook and are not constantly borrowing against the equity in your house, it will be one of the best investments you can make.