*Jet traffic is down almost 85% since the Santa Monica Airport shortened its runway earlier this year…property owners in South Santa Monica and Mar Vista are definitely enjoying that.
* Mid-City is now a million-dollar neighborhood, with a median price point of $1,065,000
* More price reductions compared with last July were recorded in areas with a larger share of homes priced between $2 million and $3 million: Malibu, Silicon Beach, the Hollywood Hills, and Brentwood.
*With an average of $4,883 per month, the 90024 zip code of Westwood, ranked as the third-most expensive place to rent in the country, according to a new analysis by RentCafe. Westwood ranked higher then San Francisco!
*Nationwide home sales volume has dropped for seven straight months. The Western U.S. saw the biggest year-over-year dip by dropping 5.8%. The national association of realtors points to an over-heated housing market in which perspective buyers are just unable to afford homes and a ceiling of pricing could be developing…
*The value of all residential real estate in New York City is equivalent to the gross domestic product of France!
*More than 1/3 of the country's $28.4 trillion in resi real estate is concentrated in ten American cities…New York and Los Angeles top the list, though Los Angeles is a distant 2nd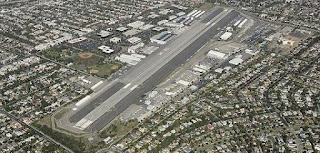 After an abrupt turn of events and then a reversal, the City is back on track with plans to shorten the runway at Santa Monica Airport from nearly 5,000 feet to 3,500. A last-minute attempt by two local pilots to stall the project only managed to delay plans for a week – the City says construction will begin this week.
Check out the Santa Monica Daily Press article here- Judge clears way for runway reduction
Earlier this month-
For those South Santa Monica and north Mar Vista residents that were eagerly anticipating the runway reduction at the Santa Monica Airport, you are going to have to wait a little bit longer. A federal court has issued a temporary restraining order preventing the City of Santa Monica from pursuing the project. City Hall plans to remove 1,500 feet of runway in an attempt to discourage jet flights and the first phase of the project was set to begin on October 18th.
Check out the Santa Monica Daily Press article here- Court order delays runway reduction
An app called HowLoud has created sound profiles of every Los Angeles address and RentLingo has released a searchable map that displays the decibel levels at any given point in Los Angeles, allowing you to see what it is like during the day and at night. This can definitely come in handy when searching for a home and are sensitive to noise. It is interesting to note that some of the trendier and pricey real estate is located in areas where the noise levels are fairly high thanks to restaurants and bars. Check out a few examples of Santa Monica below and why so many neighbors want the Santa Monica Airport to go away (at least the big jets).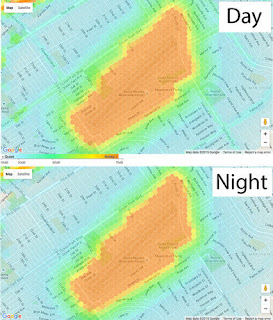 Santa Monica Airport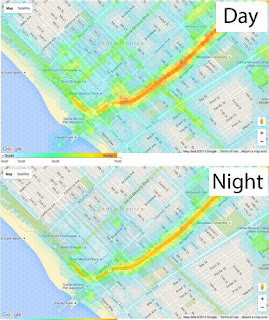 Santa Monica
Source: LA Curbed Blog