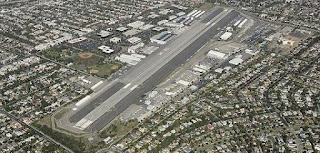 After an abrupt turn of events and then a reversal, the City is back on track with plans to shorten the runway at Santa Monica Airport from nearly 5,000 feet to 3,500. A last-minute attempt by two local pilots to stall the project only managed to delay plans for a week – the City says construction will begin this week.
Check out the Santa Monica Daily Press article here- Judge clears way for runway reduction
Earlier this month-
For those South Santa Monica and north Mar Vista residents that were eagerly anticipating the runway reduction at the Santa Monica Airport, you are going to have to wait a little bit longer. A federal court has issued a temporary restraining order preventing the City of Santa Monica from pursuing the project. City Hall plans to remove 1,500 feet of runway in an attempt to discourage jet flights and the first phase of the project was set to begin on October 18th.
Check out the Santa Monica Daily Press article here- Court order delays runway reduction