– The Westside market is continuing its three year roll of trading at premium prices with multiple offer and above asking sales prices being the norm for over 50% of the properties on the market. We have seen a little slow-down in the upper high-end market ($5M ++) but much of that has to do with unrealistic list prices. The properties that are priced at or near the true market value are moving fairly quickly.
– We are noticing quite a few newcomers getting into the flipping business. The main companies we typically see purchasing re-model/tear down candidates are getting outbid on quite a few properties lately…and in some cases it isn't even close. An example of this is 3154 Barry Avenue in Mar Vista. A great location with a great walk score on a 7K sq. ft. lot hit the market for $1.098M and sold in multiple offers for $1.350M. A few builders went up to about $1.2M but felt the profit margin would get too tight if you purchase it above that number. Hopefully history won't repeat itself and the market dynamics are different, but the last time we saw this behavior was around 2006…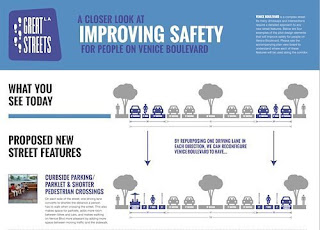 click to enlarge
-Venice Boulevard in Mar Vista about to permanently lose car lanes: Venice Blvd. between Inglewood and Beethoven was named as one of the first Los Angeles roads that will be part of LA's Great Streets program that takes away a lane of car traffic in each direction to create a protected bike lane and four mid-block crossings with their own signaling buttons. Locals wanted a more user friendly Venice Blvd. but the program doesn't include much of a beautification plan which is needed if you want to attract more foot traffic from the higher-end areas of Mar Vista that are close-by. A more attractive Venice Blvd. would be great for the area, however, geographically speaking, LA seems like a pretty spread out place without nearly enough mass transit to start taking away lanes of traffic in already heavily congested areas. It will be interesting to see how this works out…Please check out an article about this along with graphics via CurbedLA: Part of Venice Blvd. will be getting more hospitable to non-drivers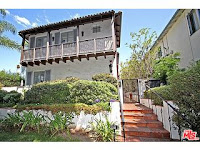 923 20th Street #2
– A quick look at some recent condo sales in Santa Monica: 923 20th Street #2 has not officially sold but it immediately went into escrow one day after the first public open house. It was listed at $1.529M ($1,149 sq. ft.) but rumor is it sold above that number…it seems like yesterday people thought it was crazy to pay $1,000 a sq. ft. for a home north of Montana. The 1,330 sq. ft. 2 bed/3 bath Spanish Colonial built in 2006 has tons of charm and character but a very small 2nd bedroom.
817 10th Street #307
817 10th street #307 is a top floor 1,394 sq. ft. 2+2 single level unit that was bought at the end of last year for $1.150M and after some upgrades were made to the kitchen and bathrooms, it just sold for $1.4M after being listed for $1.3M. We approximate the seller did about $70K in upgrades.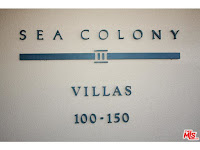 122 Ocean Park Blvd.#411, a 1,502 sq. ft. 2+2 was bought in 2012 for $1.185M, just under the $1.199M asking price. In pretty much the same condition, this coveted Sea Colony III unit with $800 a month HOA dues just sold for $1.601M, $206K over the asking price! The Sea Colony and the surrounding area is very popular right now with the emergence of Silicon Beach. The seller had phenomenal market timing!
– The foreclosure saga of Sea Ridge's 1948 Palisades Drive (Pacific Palisades) comes to an end: This rare foreclosure (bought in2006 for $1.4M) was hit with massive sewer and drainage issues that destroyed most of the integrity of the home and annoyed realtors as clients would call thinking they could get a great deal on the condo not knowing that has to be completely remodeled as previous listings of the property were vague when it came to explaining the horrible condition. After a saga lasting over four years, it finally sold through bankruptcy court in an all-cash deal for $1.180M, $280K over the $900K list price. Despite going for $200K over the list price it is not a bad deal for a 3,000 sq. ft townhouse in one of the most coveted complexes in the Palisades.