Mortgage rates have now fallen to their lowest level within the last 10 months, according to the latest Freddie Mac Primary Mortgage Market Survey. The 30-year fixed-rate mortgage averaged 4.41% for the week ending Feb. 7, 2019, moderately retreating from last week's percentage. This is higher than last year's rate of 4.32% at this time but not nearly as big of a gap as we were seeing two months ago when it was as much as 20%.
Prospective home-owners have applied for loans in droves as mortgage rates have declined over the past few months. Mortgage purchase applications hit the highest level since April 2010 according to the Mortgage Bankers Association.
The 15-year FRM averaged 3.84% this week, sliding from last week's 3.89%. Notably, this time last year, the 15-year FRM was 3.77%. The 5-year Treasury-indexed hybrid adjustable-rate mortgage averaged 3.91%, falling from 3.96% the week before. The rate remains higher than this time in 2018 when it averaged 3.57%.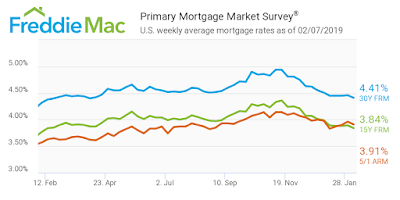 Source: HousingWire