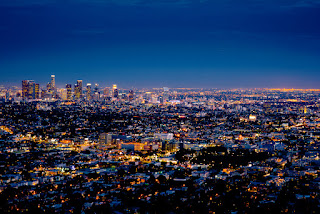 A recent survey has divulged that the greater Los Angeles area is the #1 locale in North America for world citizens seeking new property in 2017. The Los Angeles Times accentuates this real estate phenomenon in an article highlighting the allure of the City of Angels. Additionally, Knight Frank's "Wealth Report" of 2017, which offers a global perspective on wealth and investment opportunities and strategies, has ranked Los Angeles as #5 out of 40 cities with the most formidable urban power in the world. It is widely acknowledged among Los Angeles real estate insiders that the market has not yet reached its paramount potential.
While San Francisco was ranked number one in the first CBRE Global Investor Intentions Survey, Los Angeles has increasingly become a safe bet. "Los Angeles is a safe haven for investment these days," says Dario Svidler of Partners Trust Commercial. "Jobs, desirability, stability and lack of home affordability combine to make Los Angeles a steady growth market with little to no downside."
The 2017 global investor assessment maintains that office spaces are the preferred type of real estate to purchase, while warehouses and multifamily residential buildings come in as second and third. Those who participated in this international survey were insurance companies, sovereign wealth funds, operators of pension and investment fund managers.
It is likely that the price of real estate in Los Angeles will increase as does demand. Several momentous deals have occurred in the last year, including Douglas Emmett Inc. and the Qatar Investment Authority's $1.3 billion purchase of four Westwood office buildings and Boston Properties Inc.'s $511 million acquisition of the Colorado Center office complex in Santa Monica. These transactions were two of the largest deals made in the U.S. this last year.
While Los Angeles' Westside is the epicenter for global investments, Downtown LA is quickly becoming another popular area among U.S., Chinese, and Canadian developers. The building boom in Downtown is the biggest we have seen since the 1920's with some commercial brokers a little concerned it might be overkill but with the demand for housing in Los Angeles at an all-time high, the explosion of units that will come available should be absorbed.
Furthermore, the "Wealth Report" highlights Hancock Park as one of five areas throughout the world with the greatest real estate value. Thus, the Los Angeles real estate market is rapidly gaining traction and garnering attention from all corners of the globe.
"L.A. has been waiting for this moment for a long time," says Lew Horne, president of SoCal and Hawaii's CBRE Group Inc.
Source- Partners Trust Blog& LA Times
Last month a colleague noted that around 40% of the active single-family residences ("SFR") in Culver City experienced a price reduction. We decided to see if this was a trend in other Westside locations and ran the numbers for the Palisades, Santa Monica, Westchester and Mar Vista as of November 24th.
We found Culver City is not unique and the reductions over the last month even increased in Culver City to 14 of the 29 SFR active listings being reduced.
Area # of Active Listings # Reduced
Culver City 29 14 (2)
Santa Monica 49 24 (6)
Mar Vista 39 20 (2)
Westchester 32 11 (0)
Pacific Palisades 80 32 (7)
**The # in perenthises are homes the Multiple Listing Service "MLS" mis-categorized as not being reduced. Realtors can come up with tricks to eliminate the reduction label to the public but a check of the listing history of each property can expose this. This practice is more popular in luxury markets.
The percentage of reductions compared to active listings is inflated due to the holiday season with quite a few sellers holding off to list their homes. However, the trend of increasing reductions has been consistent since the middle of the summer. Typically we see about 25% of the active listings showing a reduction and over the past few years that number has dipped to 10-15% due to the strength of the market. The increase in the reductions is a sign the market is settling down a little bit with buyers unwilling to pay the heavy premiums we saw earlier this year.
Though we are seeing this trend, do not be mistaken into thinking the market is headed in a downward spiral. Well priced listings (around the true market value), especially those in premium locations, are still selling in multiple offers with favorable terms for the seller. The market is still strong but just not at the level it was four to six months ago.
Check out the latest Partners Trust Quarterly statistics report for the third quarter of 2015. The market report is extensive and covers the Westside, Los Angeles proper, Manhattan Beach, San Gabriel Valley and Malibu. Please feel free to contact our office with any specific questions about your neighborhood.