Mark Rios, recently hired by the City of Santa Monica to design the 12-acre expansion of Airport Park at Santa Monica Airport, will give a talk to residents at a special meeting hosted by the Santa Monica Airport2Park Foundation, on Friday, May 13th, at 7:00 p.m., at Mount Olive Church, 1343 Ocean Park Boulevard, Santa Monica.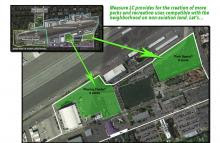 According to Neil Carrey, President of the Airport2Park Foundation, "The evening will be an opportunity for the community to hear from acclaimed designer Mark Rios about the parameters of the project for expanding Airport Park on land the City has reclaimed from aviation use, and Mr. Rios' preliminary ideas for the possibilities there, as well as give feedback to Mr. Rios on what residents would like to see in the expanded park."
Mr. Rios' firm, Rios Clementi Hale (RCH), has been tasked by the City with community outreach, research feasibility and concept design, and ultimately design of the park expansion. RCH previously worked in Santa Monica on Euclid and Douglas Park and also designed iconic parks and public spaces in Southern California, such as Los Angeles Grand Park, the Rancho Cienega Recreation Center and the L.A. Zoo Event and Play Space.
The park expansion became possible in 2015 when the City's 1984 Agreement with the Federal Aviation Administration expired, freeing up land that had been used to park airplanes, which have recently been removed.
Source: Article from Santa Monica Mirror