A record amount of foreign money is flowing into the U.S. housing market. And the Southland is a prime destination. Overseas buyers and new immigrants accounted for $92 billion worth of home purchases in the U.S. in the 12 months ended in March. That's up 35% from the year before, and the most ever.

Nearly one-fourth of those purchases came from Chinese buyers with a 55% increase in total purchase compared to last year. And the place they're looking most is Southern California. Among U.S. cities, Los Angeles was the top destination for real estate searches from China, San Francisco was second; followed by Irvine.

Some families are buying houses for their children attending California universities, or even high schools in some top districts. Others see the U.S. as a smarter investment than the overheated Chinese housing market.

"These are famous cities they know," said Liu, an immigrant from China who is a realtor and estimates that half her business now comes from Chinese buyers. "They know San Francisco. They know Los Angeles. They know Irvine." Good schools certainly help. Liu said many of her clients are families with children, planning to immigrate to the U.S. and looking for a top-ranked school district. And the high-cost Chinese housing market means that even neighborhoods in the U.S. where the median price is pushing $900,000 can look like a steal.


Not just Asians- The weather of Southern California appeals to Europeans; the glamour to buyers from Russia; and the economic stability to Latin Americans looking for a haven.
"The world has really opened its eyes to California," he said.
Still, he noted, these global elite are only active in a certain slice of the market. And while that may keep driving up prices at the high end, it probably won't make much difference to the average first-time home-buyer in a middle-class neighborhood.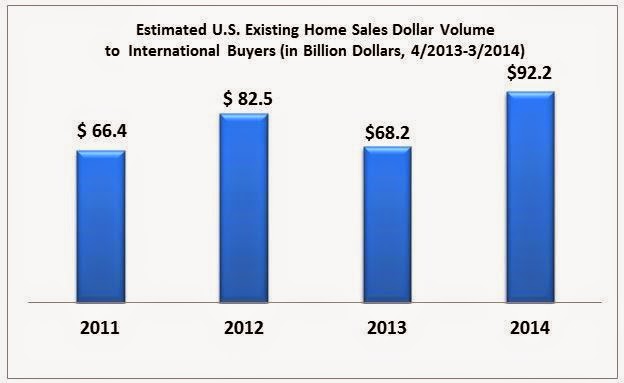 Sources- LA Times/Calculated Risk Blog