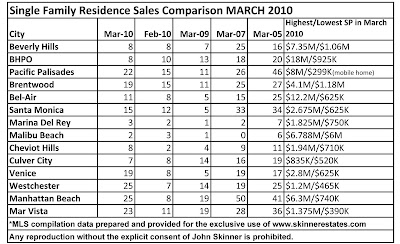 *Click image to enlarge
*The most expensive listing sold in March for $18 million, reduced significantly from its original listing price in July 2009 of $29.9 million. This 8 bedroom, 11 bath mansion sits on more 4 acres in BHPO. Even this remarkable estate shows that now is the time to buy for a steal of a deal.
*Sales were up significantly in the month of March. A large jump up in the Manhattan Beach area, but still down 50% from 2007 and the height of the market. Significant upward sales trends also in Westchester, Venice, Mar Vista, and Pacific Palisades, but again much smaller numbers than 2005 and 2007.