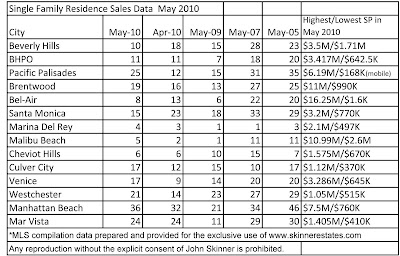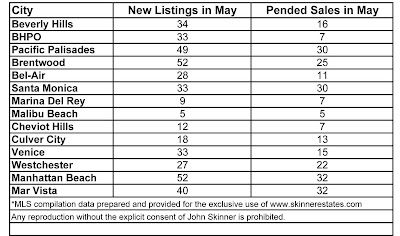 May Single Family Home Sales ("SFR") were strong on the Westside/South Bay with most of the sales going into escrow in April right before the expiration of the homebuyer tax credit. Sales volume is significantly stronger than last year but still off 2007 and 2005 volume with the exception of Marina Del Rey which is a bit of an anomaly since it is dominated by condo sales.
The general trend for most areas was the sales price was at or just under the list price with not as many fluctuations as the past few months.
It will be interesting to see if these numbers continue to trend upward with the expiration of the tax credit. Record low interest rates and a look at pended sales in May shows this strong upward trend in sales will continue through June.
Some quick highlights:
*The Pacific Palisades doubled sales volume from April and most sales were around or over asking. 910 Chautauqua was listed for $3.79M and sold for $6.19M.
*Most sales in Beverly Hills and Beverly Hills Post Office went at least $100K under asking. 910 Beverly Drive originally listed for $4.5M sold for $3.5M. . .
*Brentwood had another strong month of sales. 5 of the 19 properties sold went for over asking with most of the others selling at or just under the list price.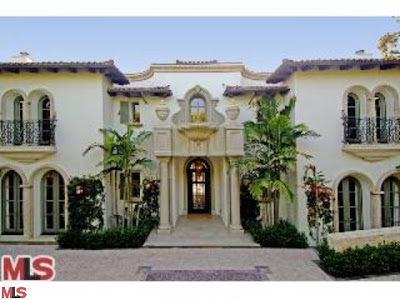 *655 Sarbonne Road (pictured) a 7 bed/11 bath home originally listed for $24.25M sold for $16.25M.
*Santa Monica dropped from 23 sales in April to only 15 in May. However, Samo is looking to bounce back with 30 pended sales in May.
*Manhattan Beach had another really strong month with 36 sales lead by 1200 The Strand selling for $7.5M after being listed for $7.9M.