The 30-year fixed-rate mortgage averaged 3.57% during the week ending Oct. 10, down 8 basis point from the previous week. This is a stark change from a year ago when the 30-year fixed-rate mortgage averaged 4.90%
The 15-year fixed-rate mortgage dipped 9 basis points to an average of 3.05%, according to Freddie Mac. The 5/1 adjustable-rate mortgage averaged 3.35%, down 3 basis points from a week ago.
Mortgage rates roughly track the direction of the 10-year Treasury note, the yield of which has fallen by more than 10 basis points over the last month and roughly 100 basis points throughout 2019. Falling mortgage rates have yet again caused a resurgence in refinancing activity. The most recent mortgage application data from the Mortgage Bankers Association showed that refinance activity was 163% higher than a year ago. The same trend has not occurred when it comes to loans used to buy a home. Purchase loan volume was only up 10% from a year ago, the Mortgage Bankers Association reported.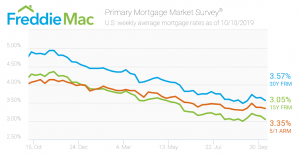 Source: Marketwatch