Mortgage rates hovered near their all-time lows this week, with the average 30-year fixed loan at 3.37%, down from 3.39% last week, Freddie Mac said in its latest survey of what lenders are offering to solid borrowers.
The record low of 3.36% was set two weeks ago.
Freddie said the average offering rate for a 15-year home loan was 2.66%, a new record low. Borrowers would have paid an average 0.7% of the loan amount in upfront lender fees and points for the 30-year loan and 0.6% for the 15-year mortgage.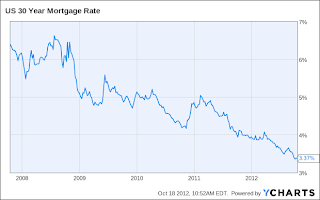 Source (article and chart): LA Times